General Louis Adrian and the French Helmet
Terry Jackson
In 1914 when the nations of Europe went to war, the institutions of the military powers embraced all the modern techniques available and they continued to adapt them as the conflict progressed. It was the first war in which fighting was fully pursued on land, on and under the oceans and in the heavens above.
However, the largest element of the nations, their men in the armies, had little modern personal equipment other than their rifle and other ordnance. In particular headgear was generally no more than a cap or, in the case of the Germans, a leather helmet.
On the Western Front by 1915, the opposing forces faced each other below ground level or behind breastworks, where the water table was near the surface. Whilst, for most of the time, the Germans were content let the Allies risk their lives trying to regain French and Belgian territory, when the antagonists were in their opposing trenches, the most vulnerable part of a soldier's body was the head. It was liable to be shot at if inadvertently exposed above the parapet or suffer a shower of falling metal from the sky above.
The first attempt to alleviate this hazard came from the French. Loius Adrian, a French officer, was known for his concern for his men's welfare. In early 1915 he developed a metal skull cap (calotte) that could be worn under the kepis and kept in place by a sweat band. The popular belief is that he had discovered a poilu wearing a metal soup bowl on his head for protection. However, the facts are likely to be that after it was issued, some soldiers used it as a drinking vessel.
It. was made of stamped soft steel, 5mm thick, and could be held in place by a sweat band. Adrian had been involved in in the logistics of army equipment and after the relative success of the calotte, 700,000 having been issued, he was empowered to design a protective helmet, France being the first nation to do so in bulk numbers..
By the spring of 1915 after the relative success of the calotte, Adrian started his work. Seeking a national connection, he based his design on the existing fireman's helmet. This was a bowl with a rim and a crest on the crown. It was worn by the urban pompiers, well known in the cities.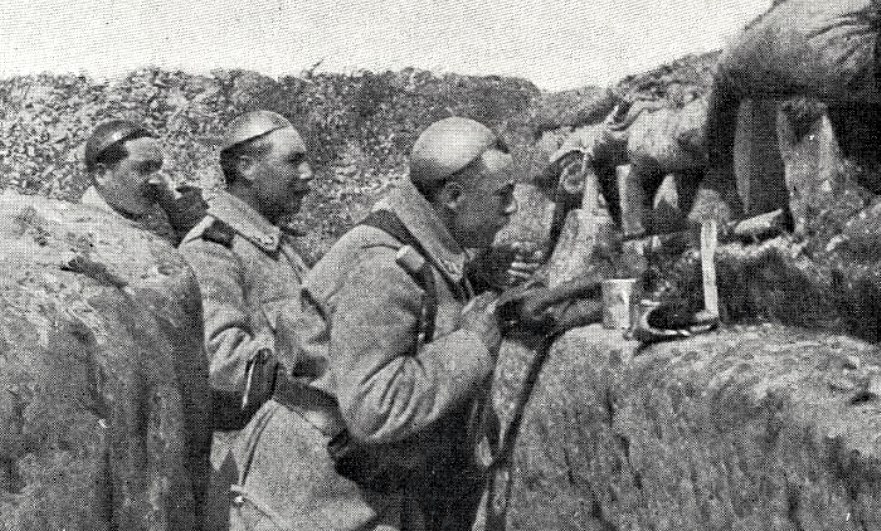 The calotte
The design was a bowl with a median crest and a brim. On the forehead a relative unit symbol was pinned-crossed cannon, grenade etc. It was made in three sizes with an appropriate liner with vertical flutes to give some ventilation and keep the shell off the surface of the head. The brim was in two pieces- front and rear, crimped level with the ears. On the top of the dome was a crest held on by rivets. Beneath this was an open slot 40mm long, 10mm wide, to help ventilation. It had a leather liner, flower shaped, which could be adjusted by a chord. An adjustable chin strap was attached to the sides. It was issued in 3 sizes and production began in mid-1915.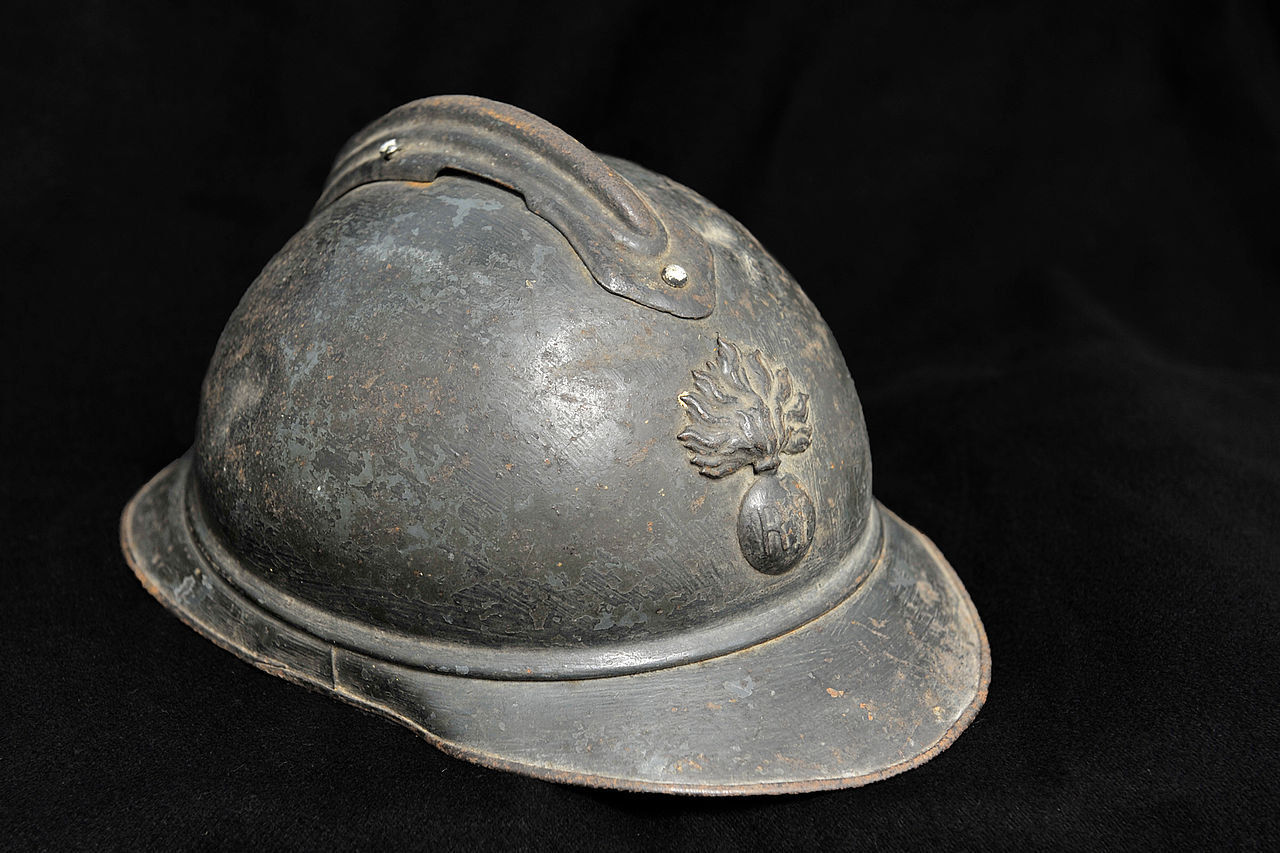 Adrian helmet
The helmet was manufactured by Compteurs et Matériel D'Usine, Rue Claude de Veilefaux, and the firm August Pepyon, both of Paris. 3 Million were produced by September 1917. The former could make 7500 per day using 200 press machines with 8 mechanics in the tool room. The helmet was made of mild steel 0.277 inches thick with a tensile strength of 62,000lbs per square inch. It did not shatter which avoided steel being carried into the head. However, no attempt was made to alleviate the thinning of the crown caused by the stamping and it only had half the resistance to a revolver shot compared to a Brodie helmet. It had not been tested ballistically before issue. It was therefore weaker, but lighter than the British model. Its main weaknesses were the brims, being in two pieces and the number of rivets and joints which were prone to fail if hit with any force. Nevertheless it became a symbol for the common soldier.
General Louis Adrian (photo right) was born in Metz in 1859 but moved away during the Franco–Prussian War and studied engineering and applied engineering at the École Polytechnique in Paris. He was commissioned as a lieutenant in the 3rd Arras Regiment. In 1885 he was a captain at Cherbourg, constructing barracks and coastal defences. He was posted to Madagascar where he planned facilities for the Army in what was a strange environment. He was responsible for improving roads, building bridges and lightweight barracks. He suffered from the effects of the climate and was repatriated to France in December 1885. That month he married Marguerite Pigeon, niece of the Priest of Genȇts.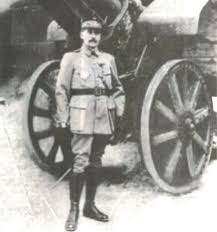 In 1904, despite making enemies, as he dealt with fraud and corruption by army suppliers, he was awarded the Légion D'Honneur in 1912 for removing the contractors of military beds and making a state body responsible. His health caused him to retire in 1913 and he settled in Genȇts. He subsequently spent some time in Venezuela and developed a portable shed for use by beef cattle farmers.
The army reinstated him in 1914 as the Supply Officer and he became the Assistant Director of Stewardship for the Ministry of War (Clothing and Equipment) for the French Army. This involved clothing and equipping the rapidly expanding army. He acquired 4 thousand tonnes of cloth and wool from Lille in October 1914 just prior to its occupation by German forces.
Adrian also acquired sheepskin jackets during the bad winter of 1914/15, made soldiers' back packs easier to carry and insisted on the provision of strong boots. His work on 'cattle-sheds' enabled soldiers to be housed in barracks when out of the line, instead of using cold and wet tents. He organised construction of these sheds by 200 companies with a production rate of up to 50 per day.
Adrian persuaded Joffre to allow the production of skull caps in February 1915 and by the spring some 700,000 had been made. By the end of April 1915 the Japy factory had agreed to provide 529 thousand, but they had only made 141 thousand. Adrian pushed them so that by September they were producing 52 thousand helmets per month. Adrian indicated that having received its baptism of fire, it preserved the life of a considerable proportion of men to whom it had been allocated. Initially the soldiers had been unimpressed, but gradually accepted it as part of their standard equipment.
By 1917, head wounds were 22 percent of all wounds but only 50 percent were fatal. Some 15 different companies made the Adrian helmet and others made helmets exclusively for officers costing 20-25 Francs. However they were of poorer construction and often shattered if hit by shrapnel. By the end of 1916, 7 million had been made for other nations at a cost of 6F each. Italy had 1.5 million, Russia 340 thousand, Belgium 208 thousand, Serbia 123 thousand, Romania 90 thousand and Holland 10 thousand. By 1918, 20 million had been made.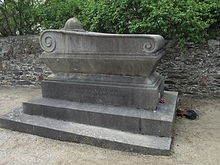 On 18 December 1918, a Decree granted officers and soldiers a ceremonial Adrian helmet with a plaque attached 'Soldat de la Grande Guerre 1914-1918' The Adrian like the Brodie helmet was improved during the inter war period and was still being used by the police after the Second World War. Adrian's success created jealousy and accusations of corruption, which were rejected out of hand by the Government. (Photo right - Adrian's grave).

After the War Adrian continued to work, developing body armour, splash goggles, armoured aviation turrets and he studied solar energy. He was awarded the Grand Officer de la Legion d'Honneur in 1920. He retired to Genȇts in Normandy. He died in a military hospital in Val-de-Grace 8 August 1933.
A final anecdote is that after his fall from grace, following his part in the Gallipoli disaster, Churchill served temporarily as an lieutenant-colonel with the 6th Royal Scots Fusiliers at Ploegsteert., He wore a Casque Adrian amongst all the Tommies, saying it provided more shade than the Brodie helmet and disguised who he was so he could get on with his duties…….
There are several books on helmets available to purchase. It is also possible to read on line the American Bashford Dean's book, 'Helmets and body armor in modern warfare'. Published just after the end of the Great War, it includes an appraisal of the attempts of the various nations' to provide protection for their soldiers and the prototypes that were being considered for future conflicts). TJ