The Queen Victoria's Jubilee Fund Association
As well as the Red Cross, The Queen Victoria's Jubilee Fund Association, Rue Muzy No. 15, Geneva, had special permission from the German Authorities to enquire for missing soldiers in the camps and hospitals in the war zone in Germany and Belgium. It circulated illustrated sheets with pictures of the missing.
The Enquiry Branch of the Association was created by Mr. S. Goodman, also known as Mr Guttmann (the Germanised version of his surname). He was a retired British officer of the Indian Postal Department and was living in Geneva. Some documents have suggested that he was a representative of the British Council in Geneva.
The work began in November 1914, when Lady Bullough asked Goodman to help find her brother, Captain Charles de la Pasture of the Scots Guards, since the Red Cross International Committee could not help. Goodman decided to send handwritten circulars to a number of PoW camps in Germany. When this proved successful (de la Pasture was killed 29 October 1914, aged 35), he received enquiries about other British officers who were missing in action. He then asked for photos, which were attached to the circulars. As the project continued, Goodman combined the photos into a 'tableaux' (about 28 photos of individual officers, displayed on a sheet). (Photo right: Charles de la Pasture.)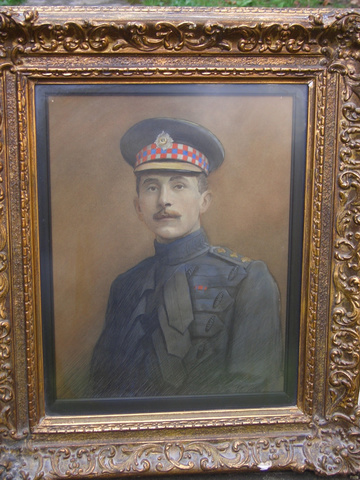 Then, in February 1915, the Germans forbade information on PoWs being passed on to private agencies. Consequently, Goodman applied to the QVJFA for permission to use their name. This organisation provided assistance to needy British subjects in Geneva. The QVJFA agreed and Goodman was appointed Honorary Manager of the Association's Enquiry Branch. Despite this, for most, if not all of the war, the whole effort seems to have been run by Mr Goodman alone.
Examples of the QVJFA's work included:-Capt. Noel William Ward Webb MC, a Flight Commander in the Royal Flying Corps was posted as missing in action on 16 August 1917. He had subsequently been reported by the QVJFA as being killed on that date.
Second Lt. Thomas Wright Carson served in 6th West Riding (Duke of Wellington's) Regiment. On 7 January 1917, his family was told he was missing in action by his unit, but they said it did not necessarily mean he was dead. He had been in France less than eight weeks. His brother was in the same regiment but could not say whether he was dead or captured.
While Thomas was out in No Mans' Land with a couple of men on a raiding party, a flare went up and they took cover. When the flare died out, the other men looked for Thomas but there was no sign of him, nor could later patrols find him. It was assumed he had been captured as no shots had been fired. However four months later his brother was informed by the QVJFA that Thomas Wright Carson had died on 27 December 1917.
The letter from the QVJFA to Thomas Wright Carson's family read: "Dear Sir, We are grieved to be the bearers of sad news about your brother Thomas. We have received the following information from Countess E. Blucher von Wahlstatt in Berlin. She saw in our last list of missing officers the name of 2nd Lt. Carson, missing near Ypres, and wrote to tell us that a German officer on leave had told her that they came upon his body and later buried him with full military honours". [Editor's note: Carson was originally buried in the German cemetery at Langemark and was "concentrated" in 1929 to Sanctuary Wood at Zillebeke. He is listed as an unknown on the Menin Gate list of 1925.]
By the end of the war, the organisation had been operating for four years. Its lists had been sent to PoW camps in Germany, Belgium and occupied France, featuring around 400 names, including some French troops with details on a French corporal and a private, but only officers seem to have been featured in the British lists.
In total, 92 lists were circulated. Those enquiring about missing soldiers also received a copy of the list that included their relative, which was perhaps a small comfort to them. Enquiries were made amongst prisoners of war interned in Switzerland, although little information was obtained this way. Attempts to extend the branch's enquiries to PoWs held in Turkey and Egypt were not successful.
Initially the whole project was funded by Mr Goodman and donations from some enquirers. After these funds ran out in May 1918, photographs were only included in lists if the enquirer contributed the cost of reproduction (8/-). As funds improved, smaller donations could be accepted. The branch's success meant that people enquiring to the British Central Prisoner of War Committee about relatives who they thought might be PoWs were sometimes directed to it.
Some of the reasons for the branch's success were judged to be co-operation with various German aid societies, and the goodwill created in Germany due to the branch circulating some lists of German PoWs around British PoW camps. After a while, Mr Goodman began to liaise with the German Red Cross Association. He responded to an enquiry from Princess Blucher of Wahlstatt in Berlin (referred to above) about her brother who was serving in the British army (Lt W. Stapleton-Bretherton, 4th Royal Fusiliers), This led to the Princess providing certain information on British PoWs in Germany.
The branch's post-war report states that superstitious men sometimes threw their identity discs away before going into action for fear that they could bring harm to wearer! This obviously did not help identify those missing in action
The Swiss Catholic Mission at Friburg occasionally obtained information from the Germans about British aviators, sometimes as soon as eleven days after they were killed or reported as captured which was a quick response in the circumstances.
Footnote.-The fates of the airmen are recorded, all of whom were killed in action.
Noel William Ward Webb MC & Bar, age 20 had 14* victories including the German ace Otto Brauneck (10*) on 26 July 1917. Ward Web was subsequently downed by Werner Voss 3 days later near Polygon Wood.
Voss age 20 (48*) was shot down on 23 September 1917 over Poelkapelle having just returned from leave and eventually being downed in a dog fight against superior numbers which included James McCudden VC,DSO & Bar. MC & Bar. MM.
McCudden age 23 (57*) was killed in an accident on 9 July 1918.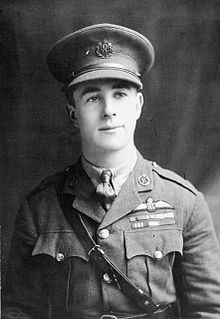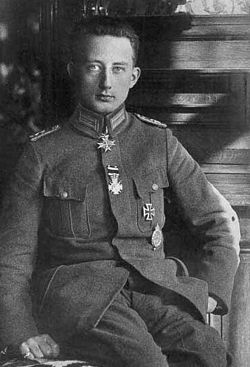 Above: McCudden and Voss; Below: Ward Webb