Chairman's Comment
The WFA at the eleventh hour managed to arrange, via the DCMS, to lay a wreath on behalf of all members on 11 November at the Cenotaph at 11am.
It was arranged that there would be just five military officers and ten WFA members in attendance. John Chester, Chair of the Spalding and South Lincs Branch, who has been Parade Marshal on 11/11 since the retirement of Les Carter in 2011 was to lay the WFA wreath. He was accompanied by a group including WFA President, Gary Sheffield and Chairman, Tony Bolton. Guest Justin Maciejewski DSO, MBE, Director of the recently reopened National Army Museum; Rev Canon David Parrot, Chaplain to the City of London Corporation. Branch Chairs Kathy Stevenson, London; Neil Pearce, East London and Barbara Taylor, Thames Valley also London Branch member Nick Lucas.
The group assembled at the Guards barracks and were advised by GSM Stokes of the arrangements for the simple service that would take place.
Shortly after the group were marched down Whitehall and placed, sensibly distanced, beside the impressive memorial of the Cenotaph. The bugler played the Last Post and John Chester laid the wreath.
At the same time in Ypres at the Menin Gate there was also a very low-key ceremony in which only four wreaths were laid. This was the first time since the WFA's founding in 1980 that they were unable to lay a wreath. See more on these events in the next Bulletin due out by Christmas.
This coming Friday we have, courtesy of Trevor Adams, another zoom talk, see details below to log on etc.
As to re-opening meetings we are still in the dark whilst news of vaccines etc offers hope for maybe Spring/early summertime.
STOP PRESS! News just in from our digital dept that the WFA YouTube channel has just hit the 5000 subscribers mark. We get quite a lot of 'metrics' from YouTube - just one of these is this "In the last 365 days, the channel got 293,111 views.".
WFA membership shows a strong upward trend due to online activities. November tends to be a big month for new people joining and Sarah Gunn at the office is reporting big numbers joining so far by end of this month. This ongoing to date in December. Looking at the broader picture of total membership since the start of the Covid pandemic, in March this year membership stood at 5643. As at the end of 6th December it stands at just under 6000.
Ralph Lomas
We will remember them
Zoom meeting 11 December 2020 7:45 pm
To join the Meeting, click on:
https://us02web.zoom.us/j/84275931811?pwd=QnU5UmJ5dEx4dU51dC8xUk1PSG5IUT09
Meeting ID: 842 7593 1811 Passcode: 802440
John Crowther – "Just names on a memorial?"
John is a retired engineer and a Methodist lay preacher. He was at school in Belfast (with Trevor Adams) and then read civil engineering at UMIST. He worked all his career for an engineering consultancy near Chester. He lives on the Wirral. In early 2018, John sought help from Trevor and a local Wirral historian, Jenny McRonald, to find out something about the twelve names on the memorial plaque in Heswall Methodist Church. None of the families were believed to be still in the area. The results of John's project were presented by him on Remembrance Sunday 2018 to the service in Heswall. His talk to us will be about what was discovered about the twelve names, from a starting point of total ignorance about their stories!
The Other Unknown Warriors
You don't think about things sometimes because they have always been so, Britain has an "Unknown Warrior" buried in Westminster Abbey, probably called by most people - an "unknown soldier", but he could be from the Navy, Air Force or Army hence he is a "warrior". All other nations have an "unknown soldier" but New Zealand would perhaps disagree with that comment! 2020 is the hundred years anniversary of the Cenotaph being unveiled in London and the burial of the "unknown warrior".
Around fifty countries now have unknown soldiers and France likes to think they were the first to honour their men in that manner, but due to several hiccups they were not. Following a victory parade at the Arc de Triomphe in late 1919, they announced that they would place a body in the Pantheon – home to bodies of French greats such as Napoleon, unfortunately the French public were not keen on that location so the Arc de Triumph was then chosen. Eight bodies were brought from battlefields where the French fought and a veteran from Verdun was allowed to pick which coffin would go to the memorial, but, he didn't as he was found to be drunk, so a second man was chosen for the job. The other coffins were buried in Faubourg-Pave. Second problem was that the tomb was not ready to receive the coffin so it was taken to the top of the Arc until all was ready.
The planned wreath laying went ahead with the higher ranking first, followed by the common people. Not until early 1921 was the tomb ready and the coffin was buried with medals including one from the USA. An eternal flame burns on the tomb.
Belgium has its soldier in the Congress Column and was placed there late in 1922. Five bodies were brought in and then one was chosen by a crippled veteran. In 1921, Italy also decided to have an unknown soldier, but it was slightly tricky as they had twelve battlefields to choose from and Caparetto was a problem as they knew that they had shot some of their own men there. One in every ten men were shot because things had not gone well, so it seems.
A mother who had lost her son was allowed to choose which body would go to the memorial in Rome, the so-called Wedding Cake! Real name the Vittorio Emanuele II monument, of course, the tomb is guarded 24 hours. The other bodies were buried in a nearby cemetery. Once you get to the countries taken later by Russia, that is Rumania and Poland things got difficult. Rumania, as it was back then, had its site destroyed by the Communists in the fifties, the body must have been saved as with the fall of the Russian state it was returned to the site and now has a guard of honour. The Rumanian soldier was awarded a US medal but as yet we don't know why.
Poland had its tomb in what was the Saxon Palace in Warsaw, issues with Russia and then Germany meant both countries were unpopular. Surprisingly when Germany destroyed the area during WW2 they did not destroy the site of the unknown soldier and it now has a garden with it.
Germany also had a memorial, Neue Wache in Berlin but it ended up in the East German part after WW2 and the Russians repaired it after we British had bombed the area. They included a victim of the Nazi camps in the site. Because of how Germany was made up during the Great War period the Bavarians decided on an unknown soldier memorial of their own, but this does not have a body. Surprisingly Australia did not decide upon an unknown soldier memorial until 1993, Canada until 1997 and New Zealand until 2002. Australia had a body from the Villers Bretonneux area the memorial is in Canberra.
Canada wanted a body from Caberret- Rouge Cemetery. Sadly, the Canadians have had problems after the memorial was placed at the National War Memorial in Ottawa in 2000. Youths were caught urinating on the memorial so guards are now placed to stop this disrespectful behaviour, then one of the guards was killed by an armed gunman.
New Zealand too had issues to deal with, in their case environment protesters. Finally the go-ahead was given and they got their body. On the 86th Armistice Day, 2004 he was laid to rest in Wellington, his body taken from Caterpillar Valley Cemetery.
John Chester
Special Poppy to Remember African-Black Soldiers
A poppy is available to remember African black soldiers who fought in WW1, these can be purchased at www.blackpoppyrose. org. The main idea is to get the children of these men to take an interest in their history as well as to remind us that men of all colours and religions fought along-side us during the war, doing their part for a war they would not benefit from.
Frank Smith Brooks
John Hartley emails… I read, with interest, the article about 2nd Lt Frank Smith Brooks. He was one of the many men commemorated on Stockport area war memorials that I researched some years back for my now defunct website "More Than a Name". He's commemorated on two civic memorials - Bramhall and Stockport - together with the memorial at St Mary's Chuch, Stockport and the Manchester University one. My original website write-up on him, which adds to the UTL article, is now reproduced on the Cheshire Roll of Honour website: https://www.cheshireroll.co.uk/soldier/?i=1798/ second-lieutenant-Frank-smith-Brooks
Frank was born in Northenden on 8 August 1892, the eldest child of Arthur Percy Brooks and Edith Brooks. Arthur was a solicitor and was in partnership with another lawyer. They practised as Smith and Brooks with offices at St Peters Chambers, 39 St Petersgate, Stockport and 12 Exchange Street, Manchester. When the 1901 Census was taken, the family was living at 186 Northenden Road, Gatley. Frank now had two siblings - 4-year-old Alice and Bernard, just a few months old. When War was declared, the family had moved to Cheadle Hulme and was living at "White Cottage" on Bramhall Park Road. They later moved to "Redcot" on Bramhall Lane.
Frank had been educated at Stockport Grammar School and was studying law at Manchester University. He had also been articled to the family practice. He applied for a commission on 27 November 1914, stating he was a member of the Special reserve with the 4th Battalion, North Staffordshire Regiment. When he became a 2nd Lieutenant, he was posted the 20th Battalion and took command of No. 14 Platoon, in "D" Company. The Battalion was the fifth of the "Pals" units raised by the Manchester Regiment in the autumn of 1914 and some details of their recruitment and training can be found here. He left for France with the battalion in November 1915.In early May 1916, Frank returned home for a brief period of leave but then returned to help with the Battalion's preparations for the forthcoming "Big Push".
An account of this attack, in which he was killed, is here. Frank's friend, Lieutenant J W Ramsbottom, wrote to Frank's parents:
"May I as an old associate of your son be allowed to express my sympathy with you in your great loss. He and I were in the same Company for over 12 months and I regarded him as one of my greatest friends in the Battalion. But with all of us, he was popular because of his cheery ways and his happy gift of looking on the bright side of things. We all miss him terribly and so can sympathise the more with you. But we are proud of him and those who died with him. I hear he was killed almost instantaneously and so would suffer no pain. He was leading his men across to the German trenches. He has been buried with his commanding officer and other brother officers in a grave in the German trench they died trying to capture and thanks to their efforts in the past and their example in the attack, it was captured."
The father of one of Frank's Bramhall friends, Frank Clarke, also wrote saying his son "must have been near Lt Brooks when he was hit as he and another officer rushed out and carried him into the lines". To have been able to do this must mean that Frank had been killed only a few yards into No Man's Land after he went "over the top". The trench where Frank was originally buried was just south of Fricourt. After the Armistice, many of these small front-line burial areas were closed as the land was returned to civilian use. Frank's body was exhumed and reburied at Dantzig Alley - itself a captured German trench - where his grave is now tended by the Commonwealth War Graves Commission.
Dantzig ALLEY CWGC Cemetery
The village of Mametz was carried by the 7th Division on 1 July 1916, the first day of the Battle of the Somme, after very hard fighting at Dantzig Alley (a German trench) and other points. The cemetery was begun later in the same month and was used by field ambulances and fighting units until the following November. The ground was lost during the great German advance in March 1918 but regained in August, and a few graves were added to the cemetery in August and September 1918. At the Armistice, the cemetery consisted of 183 graves, now in Plot I, but it was then very greatly increased by graves (almost all of 1916) brought in from the battlefields north and east of Mametz and from certain smaller burial grounds, including Aeroplane Cemetery, Fricourt, on the old German front line to the south of Fricourt village. It contained the graves of 24 NCOs. and men of the 20th Manchesters who died on 1 July 1916.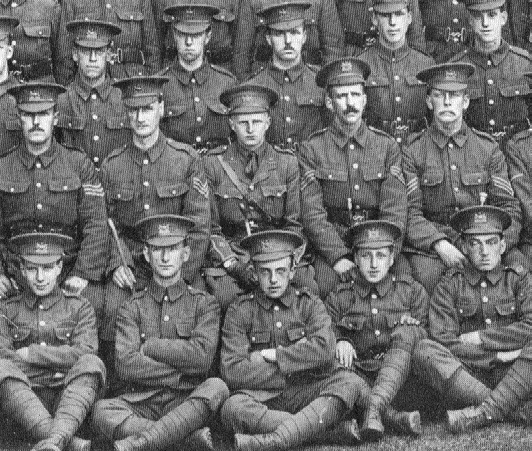 2nd Lt Brooks, centre of the photo
John Hartley has researched the lives and deaths of the men - and one woman - commemorated on the civic war memorials in the borough of Stockport, for the Great War period - nearly 3000 of them. He started his voluntary project in conjunction with the Local Heritage Library. It was intended that it would lead to a virtual war memorial for the borough but when the Library decided it was unable to continue with it, John launched his own website - "More Than A Name - the stories of Stockport's fallen". Early retirement meant he had much more time available for the project and it was substantially completed by 2008. It became a well-used resource for family and local historians, as well as local schools in their teaching of the War. The website no longer exists. A couple of years ago, it suffered a major crash and it was impractical and unaffordable to try and rebuild it. However, all was not lost. John had been in contact with the Cheshire Roll of Honour website - https://www.cheshireroll. co.uk/ - to pass on the research for them to also use. That website is gradually uploading the pages, along with their research into men commemorated on memorials throughout the county.
John is also the author of four Great War books, including battalion histories of the 6th heshires (Stockport's Territorials) and the 6th and 17th Manchesters. He has also written a book about food during the War. Although no longer involved, he was a founder member of the In From The Cold Project which works with the Commonwealth War Graves Commission to identify casualties of both wars who slipped through the net for official commemoration. To date, the Project has had nearly 6100 names accepted and a further 1200 are awaiting a decision.
A Great War Chaplain's Story
Rev AE Acton 1889-1917
Armar Edward Acton was born in Galway, Ireland in 1889. His father was serving locally with the 1st Battalion Connaught Rangers. The 1911 census places him at a Divinity College.
Prior to enlisting in 1916, Reverend Acton was a Curate at Holy Trinity Church, Bury and he is recorded on the local memorial. Chaplain 4th Class is the lowest commissioned rank for the clergy and roughly equates to a Lieutenant.
The inscription on his headstone "Fatally wounded when visiting his men/Menin Road. Faithful unto death" would appear to be a comment placed by the family, suggesting that unlike other Church of England clergy, who were often tainted as staying far away from any fighting, Reverend Acton was at the front with "his men". This criticism of C of E padres being distant and in the rear areas as opposed to Roman Catholic priests who were often seen in the front lines and were portrayed as very sociable was expressed by various commentators such as Sassoon and Graves(1)
Rev Acton's military service prior to this action is not clear but in keeping with his inscription he must have been active and involved with the troops and their perils as he was Mentioned in Dispatches.
Action at the Menin Road
The 2nd Battalion Border Regiment were involved in the Second Battle of Passchendaele which commenced at 05.40 on the 26th October 1917(2). The Battalion was involved in a 20th Brigade, 7 Division attack. The battalion advance was in a South Easterly direction with the village of Gheluvelt on their left and the remains of Tower Hamlets on their right. D company was on the left, C company on the right and B "moppers up" and A company in support.
Following a creeping barrage both A and D company quickly began the advance but soon found themselves in extremely unsuitable ground full of craters and liquid mud. C company continued the attack but found themselves "advancing in mud up to their waste", their officers becoming easy targets for snipers, the company was "almost entirely wiped out". D company went to what they thought was dryer ground, going over the Menin Road before attempting to take pillar boxes which were holding up their advance. Again, most of the company was wiped out and they regrouped in a crater on the road.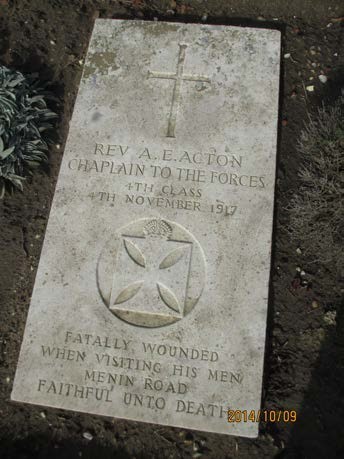 Reverend Acton I suspect must have been with D company which ended up on the Menin Road. His injuries that killed him eventually on the 4th November 1917, ten days later were reported as from gas (Comment in the CWGC's summary). The War Diary does not record any bombardment or gas attack. It is more than probable that gas might have been lingering in the craters that the company used for shelter. The Battalion was relieved the following day and was taken by motor transport to a camp at Blaringhem. The 7 Division did not know at the time but they were going from Ypres to Italy. The 2nd Border Casualties for the 26th October attack were:
Officers killed: 5, wounded: 2, missing 1.
ORs killed: 6, wounded: 174, missing: 126
Reverend Acton I suspect was one of the two officers wounded or possibly the one missing.
Gas poisonings takes some while and the sufferer can linger for a long time, as in this case ten days. He may, because of the high number of casualties and conditions not have been recovered and evacuated straight away.
His injuries must have been significant and prognosis poor as he was not evacuated to England. He passed down the medical evacuation chain to the military hospital complex at Wimereux. He passed away on 4th November 1917 and is buried in Wimereux Communal Cemetery, Pas de Calais, France. CWGC, Ref: - IV. L. 2.
Final Note. Holy Trinity Church in Bury is now a redundant Anglican church. A brightly painted reredos, was unveiled in 1987 as a First World War memorial, which may have commemorated Rev. Acton. Does it still exist?
Perhaps any member living in/near Bury could investigate?
Eric Hunter
References (1) https://www.ool.co.uk/blog/padres-priests- great-war/ (2) WO95-1655-1 War Diary 2nd Battalion Border Regiment.
Congratulations to Harry Carlisle for getting the Macclesfield Mayors Award
Harry comments: "I was very proud and honoured to have received such recognition but I must give great credit to all my colleagues whom I work alongside at the Cheshire Villages Great War Society. As a team we have staged 28 WW1 Memorial exhibitions over the past seven years, one of which was as far abroad as Norfolk".
"Along with staging these exhibitions I have written five books on the fallen from North East Cheshire, and have also given talks at seven schools on the subject of the Great War. All of which have proved to be a busy work load, and for an 82 year old it doesn't get any easier. To top this, I get a regular supply of enquiries from the general public on their relatives, who either perished or survived WW1, plus I am getting more and more on WW2".