Future of the branch: from the Chairman
At the February meeting, a communication from the WFA Branch Co-ordinator was distributed offering advice on how the Branch would possibly be able to continue after the AGM in April (see below) when I shall be standing down. A copy of this was also emailed to those on our members' list. Andy McVeety, the acting Treasurer, also indicated he would be willing to serve for another year during a period of transition.
So far as we are both aware, no one has indicated that they would be willing to serve in an official capacity of the Branch.
In the circumstances, if there is no progress by the March meeting, then it will be my intention to formally indicate then, that following the AGM and Branch meeting in April, the Lancashire and Cheshire Branch will close.
Should this be the case, I will of course notify the intended speakers for the remaining months of the year that the Branch would no longer be operational.
Terry Jackson. Chairman
Garry Trown's letter

The WFA national branch co-ordinator, Garry Trowns, sent the letter below which was circulated to all members who were able to attend the meeting on 9th February and which is now made available to all members. You will see that he suggests a rotating chairmanship of four months to keep things going.
If any of this is of interest, no matter how tentative, please contact Terry This email address is being protected from spambots. You need JavaScript enabled to view it.. Garry's letter:

Letter of Appeal
Good Evening, My name is Garry Trown and I am the current WFA Branch Co-ordinator. I am also the chairman of the Lincoln Branch.
I write to you by way of appeal as I understand from your chairman Terry Jackson that there is a very real possibility that the Lancashire & Cheshire branch is about to fold due to no one coming forward to fill the position of branch chairman following Terry's decision to stand down.
I was made aware of the situation a little while ago and having liaised with Terry, can say he has done all he can to keep the branch going. Terry is to be commended for his efforts
The Lancashire & Cheshire branch is historically one of the oldest WFA branches and extremely well attended, which demonstrates a committed group regularly attend its presentations. The question you all must ask yourself is, do you want your branch to fold?
I have spoken with Terry on a few occasions and propose/suggest the following as a work around for the forthcoming year.
Proposal
The formation of a 4 person Committee to include-
A Chairman/woman who will serve for just four months

A Treasurer

A Secretary

A Committee member
Given the branch already has a treasurer and assuming Andy McVeety is happy to serve in this role for a year, all it needs is for the Secretary and Committee member to interchange with the first Chairman and rotate their positions every four months.
This is obviously not ideal. But, it gives your branch the opportunity to continue and offers mutual support and load sharing to those taking on the role by those handing over.
Obviously this needs three volunteers to come forward to act as secretary, committee member as well as the first acting chairman. With each of these volunteers offering mutual support, I am sure this would help the branch to continue.
I am sure Terry would be more than happy to help by overseeing this proposal.
It would be a shame to see such a well- established branch close and I'm sure on reflection you may feel the same way and would ask you to give my proposal some thought.
Garry Trown. Branch Co-ordinator. The Western Front Association.
Mike O'Brien's new book
There is a review of Mike's new book on Americans in the British forces, here.
Terry and Ann at the Menin Gate
On Terry's 70th birthday, on 18th December, Terry and Ann were at the Menin Gate to lay a wreath in memory of the 6th Cheshires who took part in the opening day of 3rd Ypres. Terry also gave the exhortation.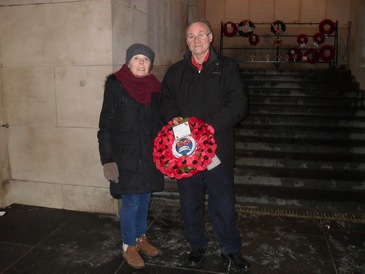 Medals of Private George William Shaw
We were contacted recently through the website by Mark Shaw who is searching for information about his great uncle, Private George William Shaw, 12364 of 9th battalion Cheshire Regiment. Mark's email reads as follows:
Hi
I hope you may be able to help me, as I am currently researching my Family Tree. I have identified George William Shaw as my Great Uncle. He served in A Company 9th Battalion Cheshire Regiment, from 01/09/1914 until his death 22/06/1917. His service number was 12364.
I have found that his medals (with the exception of his BWM), death plaque and associated certificates were sold on Ebay in 2014. I am unable to identify the seller or the purchaser.
I would like to find who it was that bought the items, if only to ask for copies of the documentation and, maybe provide a little background information in regard of my Uncle. Ideally, I would love to buy the items.
I know it is a long shot but I thought that it may be possible that one of your members may be the purchaser. I would be obliged if you could see your way clear to circulating the details to your membership.
Mark Shaw
If anyone does perchance know anything about Private Shaw could you please contact Mark at This email address is being protected from spambots. You need JavaScript enabled to view it. or Terry?
T

his website
To date, we have had more than 9,000 hits on the front page of this site in the 24 months that it has been live, plus numerous others that will have gone direct to a particular page.
Tom Willis at Tyne Cot Commemoration
From Ralph:
Tom Willis had an official invite to Tyne Cot on 31 July.
As some of you know, his father and five uncles all served in Flanders at one time or another. Obviously he couldn't get there under his own steam, so I agreed to go with him as I was going with the WFA exhibition at Zonnebeke anyway.
We got him a wheelchair at registration at Ypres Station for the big event.
He was very graciously looked after by the army FANYs and was given a good viewing position next to all the Generals/VIPs etc
Ralph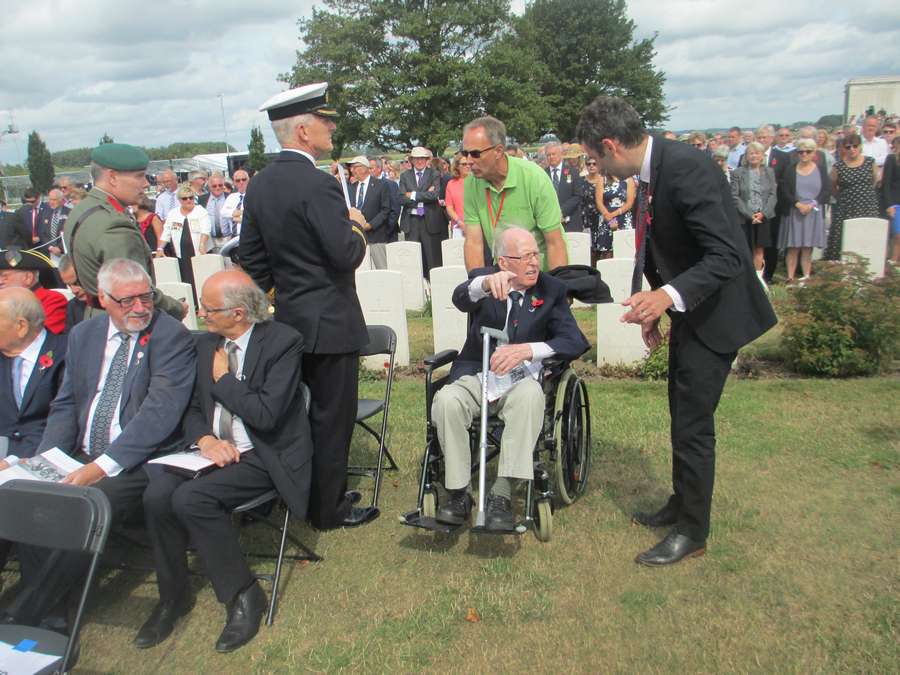 Tramways
There is an account of the visit to Ypres by Martin and Winifrid Logan to honour the memory of those Manchester Corporation Tramways who fell in WWI - Tramways workers
Manchester Military History Society
The Society meet at:
East Manchester History and Gaming Centre, 
Knivton Street, Godley, Hyde, SK14 2PU

More details on their website - Manchester Military History Society
A new memorial to Manchester railwaymen killed in WWI
A new memorial to Manchester railwymen has been unveiled in Manchester Piccadilly Station by Michael Portillo. The research for the memorial was undertaken by two Virgin Trains managers - see Local History page
The Lost Tommies
A collection of photos of Tommies billeted in the village of Vignacourt has come to light and is on the BBC "One Show" site - One Show photos Can you help identify any of them?