Mike O'Brien's new book
There is a review of Mike's new book on Americans in the British forces, here.
January Meeting
Unfortunately, it was necessary to cancel the meeting at short notice.
Late on Friday afternoon I received a telephone call from Captain Oldham. She had been notified that a substantial oil spillage had occurred along Greek Street. It was so severe that the police closed the entirety of the road. The A6 and the top roundabout were both blocked from entry. It was not certain when the road would be re-opened. Local inhabitants were allowed ingress, but other traffic was prohibited. It was anticipated that the whole of the road surface would have to be fully removed and re-laid.
Following a further discussion with the Captain, I made the decision to cancel the meeting. I telephoned and sent an email to as many members as I could. I appreciate this was disappointing. However, I was not certain that I would be able to get near to the venue with my equipment. I also anticipated that many members would turn back when they saw the barriers. Also, the road itself was saturated and it was not advisable for vehicles or people to be exposed to the fumes. Although there was TA staff inside, the steward and his colleagues would also have to risk the journey.
I used the train to come to the TA and walking up from the rear of the station I could see the traffic at the Greek Street roundabout and at the Town Hall traffic lights on the A6 was gridlocked. Unfortunately, I had not been able to forewarn the speaker before he set off.
I waited at the TA between 7.25pm and 8pm and was able to advise the few hardy souls who turned up. The speaker had actually parked on the other side of the Town Hall and managed to get access to the TA. (This would have been the distance I would need to have carried all the equipment).
I apologise for the inconvenience and disappointment this has caused, but I felt it better to be on the side of safety. Hopefully, we can arrange for this talk at a future date.
Following the incident, the road will be subject to repair. I shall monitor this to see if it is likely to affect our future access.
Terry Jackson, Chairman.
Terry and Ann at the Menin Gate
On Terry's 70th birthday, on 18th December, Terry and Ann were at the Menin Gate to lay a wreath in memory of the 6th Cheshires who took part in the opening day of 3rd Ypres. Terry also gave the exhortation.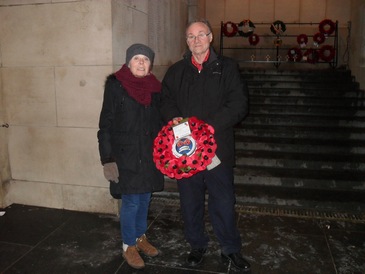 Medals of Private George William Shaw
We were contacted recently through the website by Mark Shaw who is searching for information about his great uncle, Private George William Shaw, 12364 of 9th battalion Cheshire Regiment. Mark's email reads as follows:
Hi
I hope you may be able to help me, as I am currently researching my Family Tree. I have identified George William Shaw as my Great Uncle. He served in A Company 9th Battalion Cheshire Regiment, from 01/09/1914 until his death 22/06/1917. His service number was 12364.
I have found that his medals (with the exception of his BWM), death plaque and associated certificates were sold on Ebay in 2014. I am unable to identify the seller or the purchaser.
I would like to find who it was that bought the items, if only to ask for copies of the documentation and, maybe provide a little background information in regard of my Uncle. Ideally, I would love to buy the items.
I know it is a long shot but I thought that it may be possible that one of your members may be the purchaser. I would be obliged if you could see your way clear to circulating the details to your membership.
Mark Shaw
If anyone does perchance know anything about Private Shaw could you please contact Mark at This email address is being protected from spambots. You need JavaScript enabled to view it. or Terry?
Fancy becoming the new chairman (of either gender)?
Terry has announced that he will not stand again for chairman at the next AGM in April. He says that he believes it is time for new blood in the leadership role. Dare we mention that he tells us that he has a "significant" birthday this month, on which we all wish him many happy returns. So, if you fell any inclination to be the new chair, contact Terry to find out what is involved.
This website
To date, we have had more than 8,500 hits on the front page of this site in the 18 months that it has been live, plus numerous others that will have gone direct to a particular page.
Hayden Stevens
The branch has been sent a generous donation by Shirley McKenna who is the sister of the late Hayden Stevens. She emphasised how much Hayden enjoyed the Branch meetings. Hayden often went to Mory Abbey where his great uncle was killed in August 1918.
Hayden asked Shirley to send us a donation and it has been my pleasure to thank her on behalf of the Branch and invite her and her family to attend any of our meetings as our guests.
Terry Jackson, Chairman
Tom Willis at Tyne Cot Commemoration
From Ralph:
Tom Willis had an official invite to Tyne Cot on 31 July.
As some of you know, his father and five uncles all served in Flanders at one time or another. Obviously he couldn't get there under his own steam, so I agreed to go with him as I was going with the WFA exhibition at Zonnebeke anyway.
We got him a wheelchair at registration at Ypres Station for the big event.
He was very graciously looked after by the army FANYs and was given a good viewing position next to all the Generals/VIPs etc
Ralph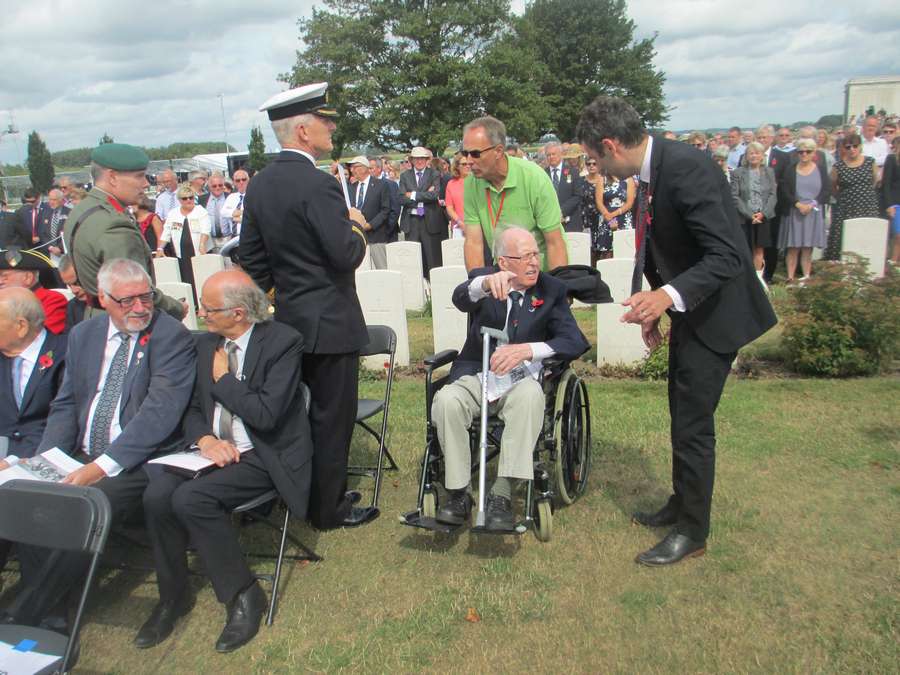 St Julien Memorial Service
On Sunday 6th August, Ann and I represented the WFA to commemorate the Battle of St Julien (31st July 1917). The forefathers of our hosts at the TA who were 6 Battalion Cheshire Regiment attacked on the opening day of Third Ypres. It became known as Stockport's worst day.
The well attended service was led by Canon Elaine Chegwin Hall and the Sermon was given by Rt. Revd. Libby Lane, Bishop of Stockport. Afterwards we joined the dignitaries and guests at the Armoury for light refreshments.
Terry Jackson, Chairman Lancs & Ches WFA
Alan Smedley
John Williams has received the sad news from Alan's daughter Alexis to say that he has passed away, thirteen months after Mavis.
Butte of Warlencourt
The branch's donation to the new orientation boards at the Butte has been acknowledged by WFA central and the branch's name will appear on the boards there. (The Butte is a manmade hill on the otherwise flat Somme terrain and was thus an important vantage point during the battle.)
Tramways
There is an account of the visit to Ypres by Martin and Winifrid Logan to honour the memory of those Manchester Corporation Tramways who fell in WWI - Tramways workers
Speakers 2018
I have obtained confirmation from a number of speakers for 2018.
The following is a resumé of their dates and topics. Full details of their talks will be put on the national WFA website and expanded upon on the Branch Meetings page in due course
Feb 9. Dave Rogers 'Boffins in World War One'
Mar 9. Dr Jane Orr 'The Spanish 'Flu'.
Apl 13. Dr Jim Beach 'The papers of Intelligence Officer Cpl Vince Scühoff'
May 11. Greg Baughen 'The myth of fighter development in WW1'
Jun 8. Dr Michael LoCicero 'A Moonlight massacre, Ypres, December 1917'
Jul 13. Dr Hodgkinson. 'Clearing the dead 1919-1929'
Aug 10. Prof John Derry 'The German High Seas Fleet. A case of futility'.
Sept 10 Dr Michael Orr: 'Hugh Jeudwine and the 55th Division'.
Oct 12 Luci Gosling: 'Winning the war with laughter: cartoonists at war'
Nov 9 Malcome Sime '66 Division (2nd East Lancs)-Defence in Depth March 1918'
Dec 14 Prof John Bourne- topic TBC
Terry Jackson, Chairman
Manchester Military History Society
The Society meet at:
East Manchester History and Gaming Centre, 
Knivton Street, Godley, Hyde, SK14 2PU

More details on their website - Manchester Military History Society
A new memorial to Manchester railwaymen killed in WWI
A new memorial to Manchester railwymen has been unveiled in Manchester Piccadilly Station by Michael Portillo. The research for the memorial was undertaken by two Virgin Trains managers - see Local History page
The Lost Tommies
A collection of photos of Tommies billeted in the village of Vignacourt has come to light and is on the BBC "One Show" site - One Show photos Can you help identify any of them?